Recommended Reading list
Half Term Information Sheet
Please find information about Summer 2 below.
This half term's Special Mention
Summer 2 2018
29th June 2018 - Ollie got a big Special Mention this week for being the mastermind behind out English lessons this week!
23rd June 2018 - A Special Mention went to Alfie for showing off how confident he is becoming in class. He always has his hand up to speak out and share his ideas!
18th June 2018 - Amber got a Special Mention for her effort with her writing. She is beginning to write more and more each lesson!
8th June 2018 - Zachary got a Special Mention this week for being a super speeding mathematician this week when adding tens to a 3-digit number.
This half term's CHAS
Summer 2 2018
29th June 2018 - Naomi got to take CHaS home for being a great friend and for knowing when to share concerns about things in the class with others.
23rd June 2018 - CHaS has gone home with Jake for having a brilliant caring, helping and sharing attitude in class and on the playground.
18th June 2018 - Peter got to take home CHaS for making really good choices on the playground and for being a good friend to others.
8th June 2018 - Yuki has been a lovely friend to others when they are upset and for this reason, CHaS went home with her!
Homework
This is your child's Mission possible Homework Booklet for Summer 2. The home learning activities are linked to the Mission that the children are focusing on and they will be carefully chosen to develop different skills in relation to a variety of curriculum subjects.
What we've been doing this week
In English we created our own teaching videos inspired by Ollie and Geraldine the Giraffe! We learnt about suffixes (and some prefixes) and made sock puppets to use in our videos. There are some examples of our work below!
In Maths we have moved onto recapping division and looking at how we need to share equally when dividing. Some children began to look at how we can work out division calculations where we need to share amounts by 2, 5 or 10 by counting in 2s, 5s or 10s!
Our Mission Project is underway and we are working together as a class to make a model of Glastonbury festival. The children are working in teams and have a focus for the project. One team is making the tents, another is creating the Pyramid Stage, a team is creating sleeping bags and pillows for the campers, one team is creating tie-dye flags for the fields and the last team is making the base of Glastonbury...we can't wait for you to see all of our hard work when we have completed it!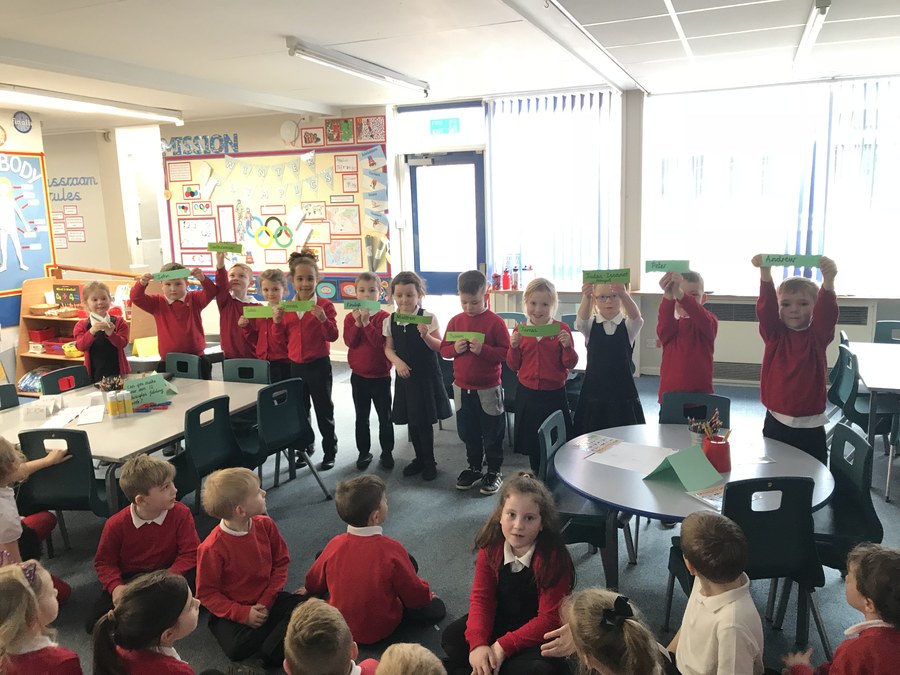 Wow moments!
Summer 2 2018
Jake really impressed us with his retelling of 'The Three Billy Goats Gruff'. He read it from memory and used so much expression; especially for the troll!
Cohen work independently to find different ways to make 100 using the tens blocks - well done Cohen!
Oliver, Courtnie, Kara, Jack, Cruz and Alfie works particularly hard in maths when adding and subtracting tens from a 2-digit number.
All of the children are trying super hard with their phonics and are showing off all that they have learnt all year - well done Elm Class!
Summer 1 2018
Joe, Myla and Zachary completed their letters to persuade Meghan and Harry to go to their chosen place on their honeymoon. I think they would struggle to turn them down as they were so persuasive!
Macie and Jack made two amazing crown's for Meghan Markle in Mission Possible this week. Jack then went on to teach others how to make a medal for Prince Harry.
Wow to Abigail, Eliza, Yuki, Isabella, Joe, Samuel and Thea for working so hard to understand how to carry the tens when answering column addition calculations.
Peter explained to the class what glass was made out of and everyone was very impressed!
Alfie and Joseph have really impressed Miss Jarvis with their improved handwriting - practise at home has really helped them to improve!
Jessica has tried very hard to make sure her 'p' are the correct way round this week and I think she has finally cracked it!
Add Elm Class on Twitter to keep up to date with our work in class!
@WECPS_Elm