Half Term Information Sheet
Please find information about Spring 2 below.
This half term's Special Mention
Spring 2018
22nd February 2018 - Sienna got a Special Mention for her amazing effort and progress in maths over the last few weeks. Sienna's confidence is really growing and we can tell in the work she is producing!
9th February 2018 - Eliza got a Special Mention for her amazing weekend recount. She used time words including 'suddenly' and adventurous words such as 'luckily'! Well done.
2nd February 2018 - Daniel has got a Special Mention for always having a brilliant and enthusiastic work ethic in Mission Possible.
26th January 2018 - A Special Mention went to Joe for his independent work on two-step word problems in maths. Amazing work!
19th January 2018 - Peter got a well deserved Special Mention for working so hard with Miss Moughan in phonics and for collecting phonemes.
12th January 2018 - Isla got a Special Mention for working amazingy well in maths when she was representing numbers. Well done!
This half term's CHAS
Spring 2018
22nd February 2018 - Oliver earnt CHaS after Mr Zugic nominated him for being so helpful in the first week back after the half term holiday.
9th February 2018 - CHaS has gone home with Macie for being so caring. She welcomed a member of the class back who had been off ill for a few days by offering to practise spellings with him and asking how he was.
2nd February 2018 - Archie has taken CHaS home for being extra thoughtful with all of his peers and for working so hard to use our Jigsaw ethos everyday.
26th January 2018 - CHaS has gone home with Myla today. It is well-deserved because she is a caring, helping and sharing member of the class who is a role model for all because of her attitude to her learning.
19th January 2018 - Alfie has taken CHaS home this week for always letting others play when he is outside and for being generally caring, helping and sharing to all.
12th January 2018 - CHaS has gone home with Ollie for being such an honest member of the class.
Homework
This is your child's Mission possible Homework Booklet for Spring 2. The home learning activities are linked to the Mission that the children are focusing on and they will be carefully chosen to develop different skills in relation to a variety of curriculum subjects.
What we've been doing this week
In Mission Possible we have begun learning about Jesus as a significant individual. We started off our learning by understanding about pancake day and its links to Lent and the Easter Story. The children got to taste some pancake and they all said it was delicious! We then started to look at the 12 disciples as this will help us to understand who they are before we find out more about the Easter Story.
This week in maths Mr Zugic taught some fun activities to help us learn about different types of measurement. The children spent a day focusing on capacity, a day learning about height and length and another day learning about weight before finishing the week off by applying their knowledge to answer questions about them all. The children loved the practical activities, especially capacity!
In English we have been learning how to write instructions. We have spent time finding out about bossy verbs and we even made our own 'bossy verb bubble' to have up in the classroom. As the week went on I challenged some children to use adverbs in their instructions to describe the verbs and they did so brilliantly. We finished our work in English this week with an independent write where the children had to use their knowledge of instructions from the week to write about how to make a sandwich. We will try to write instructions on our own again in a few weeks to see what we can remember!
My phonics group have been learning about split digraphs this week including the 'a-e' phoneme/grapheme. They came up with lots of words with this grapheme in: make, made, amaze, shade, spade...
Some children have been using Phonics Play at home to practise their phonics. Any extra phonics work will support your child in class.
https://www.phonicsplay.co.uk/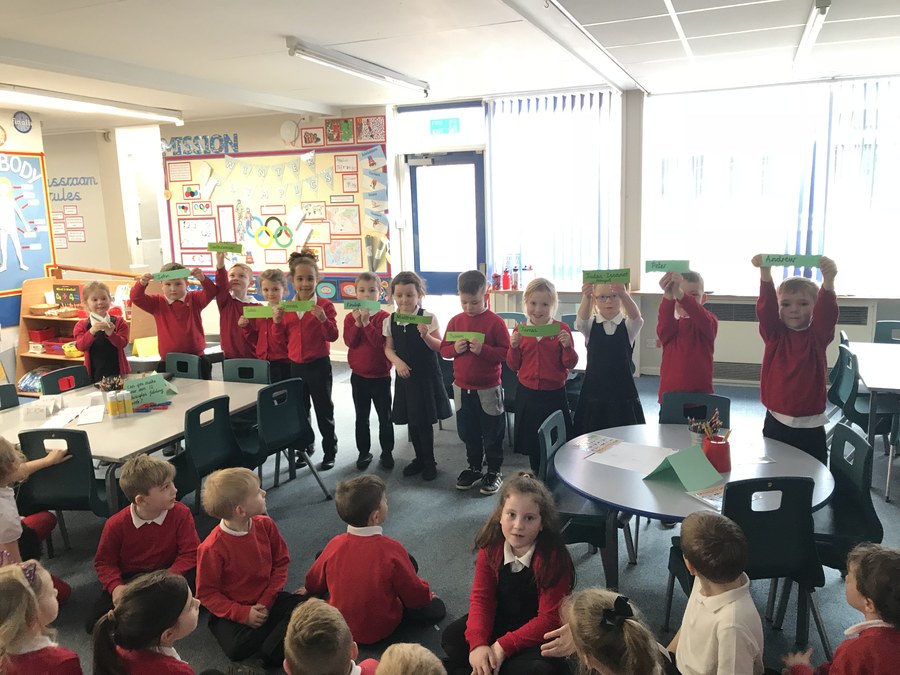 Wow moments!
Spring 2018
Mrs Cleaver took a group of children to the library on Thursday to do a book activity. The children all wrote about their favourite book character and the work is proudly on display in the classroom.

Thea got a bucket from Miss Langridge for being filling everyone's buckets each and every day!

Daniel and Joe did a great drawing of the skeleton from the Winter Olympics on Purple Mash. Macie and Kara also did a detailed picture of an ice skater with the Olympic Rings. Well done!

Miss Moughan was blown away with the quality of the Olympic tourches the children made.

Eliza, Daniel, Kara, Jessica, George and Oliver all finished their Chinese New Year leaflets that are now up on display in the classroom.

Ollie made a brilliant Chinese dragon mask this week. He was so proud of it and made sure he coloured it in perfectly!

Well done to Elm Class for putting on an amazing assembly about Chinese New Year for the rest of the school. We shared our Chinese New Year songs that we have been learning in English and shared some of our facts.

Abigail, Eliza, George, Myla and Isla worked amazingly together to create a number line to 50 in words.

Well done to Max, Archie, Cohen, Alfie, Sienna, Jake, Amber and Naomi for writing some great facts about Chinese New Year. They all tried so hard to remember finger spaces and use sound mats to help them spell.
Add Elm Class on Twitter to keep up to date with our work in class!
@WECPS_Elm